The Voice for the Industry
URoc (United Resource Operators Consortium) is a voice for the skip hire, waste transfer and materials recycling facilities of the waste management industry. URoc is a 'not-for-profit' trade body formed by members from the industry acting for the industry. All fees generated go back into assisting the waste industry.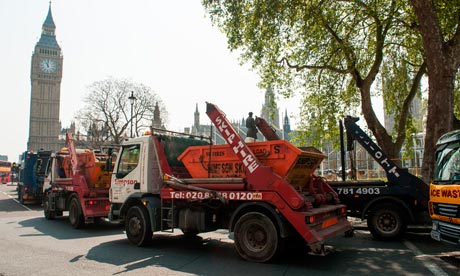 TROMMEL FINES 2016

UROC continues to be engaged with HMRC in relation to LOI testing of trommel fines and is scheduled to meet with the Working Group on 19th February 2016 to discuss the implication of the 10% LOI threshold coming into force in April 2016.

We successfully negotiated 15% LOI for the first year the test came into force, however, we fully appreciate that once the 10% takes effect in April it will have a huge impact on operators and we need to communicate with HMRC exactly what the impactions will be from an industry perspective.

We urgently need your views and comments in relation to how the 10% LOI will affect your business. We need to know the following please;

What capital investment have you made in new equipment, machinery and processes?
What changes have you made to your operations?
What results have you had from testing trommel fines? (Ideally we would appreciate a copy of your lab reports)
How do you think 10% LOI will affect your business financially?
What suggestions do you have for us to take to HMRC?

It is very important to note that 10% will be law come April 2016 and there is little we can actually do about this figure, however, we would like to develop arguments around the regime in terms of test frequency and tolerance of results – therefore we would appreciate if you can please focus your ideas around these points and anything else you can think of!

PLEASE BE ADVISED THAT ALL COMMENTS WILL BE TREATED WITH THE STRICTEST OF CONFIDENCE AND YOUR DETAILS WILL NOT BE SHARED WITH ANYBODY.

As your voice representative it is important that you talk to us so we can be UNITED in our arguments – there really is strength in numbers so the more of you that support the campaign the BIGGER our voice will be to support you! We look forward to receiving your responses, if you have any queries, please do not hesitate to contact us.

Like many of you, we started our company with one truck and a handful of skips. After many years of hard graft we have established ourselves into a reasonable sized business. We have seen the cowboys come and go and we are still seeing the white van men, however the biggest threat facing us today is bureaucracy, i.e. fines and the environment agency. We have never had a voice until UROC. If it was not for Jenny and her team, your trommels and your picking stations would be idle. I urge you all to join them, the more that do the louder the voice will be. If anyone still has any doubts about the great work UROC does please feel free to contact me. John Adkins Director AB Waste Disposal Ltd.
Industry Heavyweight goes back to his roots.
UROC the trade body representing the SME waste sector is delighted to announce the appointment of Barry Dennis as the Chairman of the organisation. Barry spent his formative years in the family skip hire business where he started on the road to a very successful career in the waste industry.
With over half a century in the trade Barry will bring a wealth of experience to UROC and will be an asset to Members helping to focus on the issues and challenges facing the sector. Jennifer Watts and Kathryn Lucas, the founders of UROC, welcome Barry in his new role and are very much looking forward to working alongside him as the Trade body flourishes.
SCOTTISH LANDFILL TAX
UROC has now been added to the Government-Industry Working Group to represent the SME Waste Sector in Scotland. We have been informed that the Scottish Government and Revenue Scotland intend to consult on Landfill Tax and this is likely to be in the Autumn with a view to implementing a statutory regime by April 2016.
WELSH LANDFILL TAX
UROC is speaking with the Welsh Government in relation to trommel fines and proposed devolved landfill tax for Wales.
As part of the broader implementation of the independent tax a call for evidence has been launched which can be seen attached or follow the link below - UROC welcomes your views and comments so please do get in touch so we can feedback matters you highlight.
Natural Resources Wales
is consulting on its Charging Scheme for 2016/2017
with responses due by 26
th
November 2015. Please get in touch with your thoughts so we can respond on your behalf as a collective voice.
UROC are proud to announce its new affiliate partnership with WAMITAB.
WAMITAB are currently running a consultation for review of the Level 4 Statutory Scheme Qualifications in preparation for updates to be made later this year to reduce repetition and include any major changes in technology or industry requirements. It is critical that this review is informed by feedback from users of WAMITAB qualifications so that they can reflect the ongoing needs of the sector and ensure that the standards are valid and transparent, allowing for transferability of skills across organisations.
If you would like to discuss this or any of the other projects UROC are currently working on, please do not hesitate to contact us.
DETS offers a wide range of analytical services for the waste, fuel, environmental, construction and engineering industries and are accredited to ISO 17025 and MCERTS.
Combining a modern, well equipped laboratory, with highly skilled and dedicated staff, we can ensure an excellent and flexible service to meet your requirements.
For the waste sector, as well as offering UKAS accredited loss on ignition analysis of trommel fines which meets current HMRC guidance, DETS also offers WAC testing on a 5 working day turnaround, UKAS accredited asbestos analysis and quantification and specialist packages for RDF, SRF and AD testing including:
Moisture content, ash and volatile matter, calorific value, biomass and non-biomass, metals by XRF, elemental analysis - C,H,N,O and S, halogens -Cl, Br, F, I and also biomethane potential.
DETS staff work closely with our clients to help understand their needs in terms of technical and commercial requirements thus enabling our clients to meet their own obligations confidently.
DETS – Dependable Data, Dependable Delivery
Derwentside Environmental Testing Services
Unit 2, Park Road Industrial Estate South, Consett, Co. Durham, DH8 5PY
Tel: +44 (0) 1207 582 333
Website: www.dets.co.uk
email: This email address is being protected from spambots. You need JavaScript enabled to view it.
UROC: Discount for members on LOI testing and other sample tests.
Further to HMRC's letter of the 19th March 2014, UROC has agreed for LOI Testing to be done through Derwent Environmental Testing Services with a a significant discount for members with a substantially reduced turnaround time for samples to be processed in just 5 days. This offer will only be open to UROC members by quoting a unique reference number. Please request a discounted price list from us by emailing This email address is being protected from spambots. You need JavaScript enabled to view it.
DUO backed by the choice of the unbeatable Powerscreen Washing Equipment combined with Terex Minerals Processing and Terex Washing Systems technology, provides the Recycling Industry with a comprehensive package of processing solutions including specific industrial applications for; waste transfer stations, metal recycling and waste paper.

We offer professional, experienced advice on all Recycling handling and processing problems and supply ongoing support with after sales service from fully trained engineers.

At DUO we are acutely aware of the impact our industry can have on the environment, our policy is to minimise this impact, and to constantly review our processes to work in a smarter and more environmentally-friendly way.

Our commitment is to not only adhere to environmental legislation but, wherever possible, exceed it.

Call us on 0845 22 22 386 to discuss all your waste processing management requirements or visit the DUO website at www.duoplc.com.
TASK: Screening is an important step in the processing of bulk materials. The BIVITEC, starts where conventional vibratory screens become inefficient and less economical. Difficult products, such as damp, stalky and leafy materials or matted substances block the screen openings of conventional vibratory screens, thus making efficient screening impossible.

BIVITEC provides a simple solution to these challenging demands: with the help of resonance, a driving mechanism provides two vibratory movements in which the flexible polyurethane mats are expanded and compressed in turns, and the difficult to screen product is separated at high acceleration. The dynamically excited screen mats thus remain free and allow efficient screening.

APPLICATION:

The BIVITEC special vibratory screen masters a wide variety of different tasks and can be deployed in classic wet and dry screening as well as in the screening of difficult-to-screen wet materials. BIVITEC screening technology has proved itself over decades in the processing of construction raw materials, industrial materials, salts, ores, the coal and steel industries as well as in the recycling industry.

Moreover, the BIVITEC screening machine can also be used as a low-maintenance, space-saving alternative to a a solution using several conventional screening machines for screening unproblematic bulk materials.

RG Recycling have a test facility where they can process various feed materials which gives the customer the reassurance of what they can process at cut points as low as 0.08mm.

For further details please click on the following link or visit the RG Recycling website: http://www.rgrecycling.co.uk
Nevis Resources is a scrap plastics trading company specialising in the purchase and sale of recyclable plastics.
With over 40 years combined experience in the waste industry, Nevis purchase a wide variety of scrap plastics from waste management companies throughout the UK and Ireland.
The material then goes on to be processed primarily within the UK and Europe.
We aim to serve as your competent and reliable partner in business. Our staff will always welcome you with friendly, attentive service.
We're looking forward to working with you!
Plastic Expert is one of the UKs leading plastic recycling companies. We work with skip hire and waste management businesses all over the UK, helping to divert plastic waste from landfill. Our company works directly with EU factories to provide the waste sector with sustainable end markets for most grades of plastic scrap including:
• Baled LDPE film (both clean and construction grade)
• uPVC door & window frames
• Single stream plastics e.g. EPS (Polystyrene, ABS, Polycarbonate)
Plastic Expert also supplies balers & compaction equipment, specifically designed for scrap plastic & waste packaging materials.
CONTACT DETAILS:
Waste Insure, a brand of Direct Insurance Group, are the leading insurance broker for all businesses linked to the waste, recycling and skip hire sector. We have an expert understanding having provided insurance cover to the industry for more than 10 years continuously including property, fleet, liabilities and plant & machinery. Our facilities are thoroughly tailored to every business and our arrangements with insurers are exclusive to us and underwritten in-house.
website www.direct-ins.co.uk and www.wasteinsure.co.uk.
R Collard Limited is one of the South of England's most respected providers of sustainable construction services, operating from headquarters in Eversley, Hampshire.
We are driven by a 'zero to landfill' commitment and support our demolition operations with one of the industry's most thorough recycling and waste management systems, designed to minimize the environmental impact of our operations. Our new state-of-the-art wash plant has an annual production capacity of 250,000 tonnes and enables us to process more wastes than we collect from local sites and create a truly closed-loop recycling system for construction waste in the South of England.
We also maintain a significant investment programme to provide a transport fleet to support our client's varying needs, managing 1,500 skips ranging in size from 4 to 40 cubic yard capacity, supported by a 75-vehicle logistics operation coordinated from our Customer Contact Centre (link to http://rcollard.com/content/skip_hire_and_grab_bags.php) in Eversley.
We offer demolition, waste management, haulage and secondary aggregates services to main contractors, consultancies, property developers and public sector organisations.
Please call us on 01252 844688 to discuss how we can help you.
R Collard Ltd, Eversley Haulage Park, Brickhouse Hill, Eversley, Hook, Hampshire RG27 0PZ
Main: 01252 844688
Skip: 01252844816
Email: This email address is being protected from spambots. You need JavaScript enabled to view it.
Web: www.rcollard.com
M&K is the leading supplier of innovative materials/waste processing technology combining unparalleled technological manufacturing capabilities with decades of marketplace and application expertise.

M&K design, manufacture & support, Shredders, Trommels, Conveyors, Picking Conveyors, Picking Cabins, Air Density Separators, Flip Flow Screens for Skip Waste, C&D, C&I, Co Mingled, Compost & Trommel Fines applications.
UROC - THE VOICE FOR THE INDUSTRY
URoc (United Resource Operators Consortium) is a voice for the skip hire, waste transfer and materials recycling facilities of the waste management industry. URoc is a 'not-for-profit' trade body formed by members from the industry acting for the industry. All fees generated are currently funding our on-going consultations with HMRC in regards to the Landfill Tax issue.The main objective of URoc is to support the industry in all aspects of business and to shape policy which benefits its members in the future. The Consortium is a focal point for members to come to for advice and a communication hub for the exchange of ideas and solutions for common issues.Finance generated from membership fees will be used with the sole purpose of furthering the overarching principals of the trade body.A shadow committee has been formed whilst membership grows. URoc maintains a democratic structure and a fully appointed committee will be elected by its members in due course. The URoc shadow committee attended with Government authorities to assist in resolving the 'trommel fines' issue, which last year triggered turmoil in the industry. Working with Government and other key industry stakeholders resulted in clarification guidance from HMRC. The landfill issue highlighted the urgent and important need to have a collective and united voice representing the SME sector within the waste industry.

Basic Membership is just £250.00 per annum, installment options avaialble.
Basic Members will be entitled to the following:
Use of URoc logo on business correspondence
Certificate of membership
Notification of consultations and associated calls for evidence and the opportunity for members to put forward their views for the formulation of a coordinated response to the Government
Access to bi-monthly regional advice surgeries run free of charge for members
Hub for exchange of ideas
Ask the expert questions technical questions including planning and permitting enquiries
Training, advice and seminars (Bespoke in house and off the shelf training provided)
Opportunity to join the workshops to directly liaise with HMRC over trommel fines, landfill tax and LOI testing regime.
Huge discounts on plant machinery, including : screeners, crushers, balers, shovels and excavators.
Membership buying power - discounts on all types machinery bought from RG Recycling including massive savings of up to £3000 on transportation costs.
LOI Testing - Massive savings and quicker turnaround for members through DETS (Derwent Environmental Testing Services) Get LOI Testing from just £20.00 and guaranteed 5 working days turnaround on results!! (Minimum saving £100.00).
Legal advice from expert Environmental Regulatory Solicitors at discounted rates
UROC are now proud to welcome Fuel Card Services as an affiliate member - Operators can make huge savings on Fuel costs - contact us for further information. www.fuelcardservices.com
Further membership benefits and packages are currently being developed and will be added very soon, in the interim we welcome your comments and ideas on exactly how you want to see URoc developed even further.
Please complete the following membership form and return with cheque made payable to URoc. We also accept card payments and BACS/CHAPS transfers.
United Resource Operators Consortium Limited
A: Suite 419, The Cotton Exchange, Old Hall Street, Liverpool, L3 9LQ.
T: 07966 234 760
F: 0151 243 6710
E: This email address is being protected from spambots. You need JavaScript enabled to view it.
Membership Application Form
URoc was conceptualised several years ago and has been communicating through the Skip Hire Magazine, however the recent issues regarding the use of 'trommel fines' at landfill sites was the catalyst to launch URoc as a trade body to ensure that the SME sector of the waste industry has a voice in the future to assist in shaping policy and responding to any proposed changes to the current regime.
Shadow Committee
Charlie Trousdell, John Crawford, Barry Harding, Martin Campbell, Steve Butler, Andrew Liddell
Sponsors